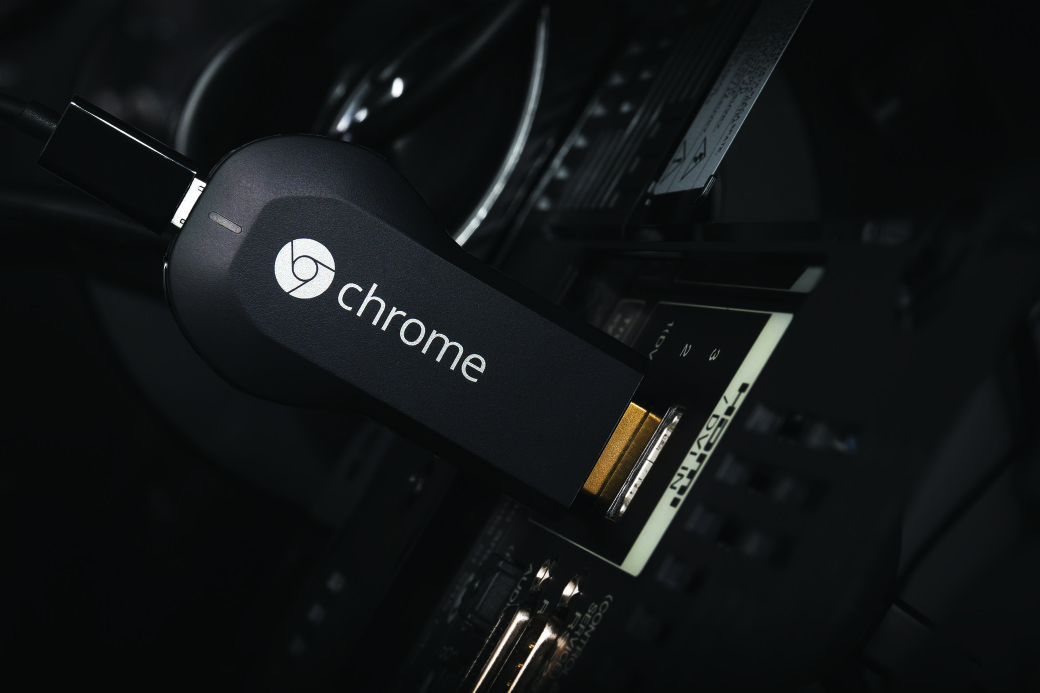 Chromecast has a compact form factor (a bit larger than a memory stick). For operation one needs a Wi-Fi connection and a TV with an HDMI port. Chromecast works with Android and iOS mobile devices, as well as with laptops (including Chromebook), and Mac and Windows PCs.
Officially supported formats:
video codecs: H.264 High Profile Level 4.1, 4.2 и 5, VP8;
audio codecs: HE-AAC, LC-AAC, CELT/Opus, MP3, Vorbis;
video containers: MP4/CENC, WebM, MPEG-DASH and SmoothStreaming up to 720p/1080P.
It also supports DRM of the first level, Widevine and PlayReady, TTML and WebVTT subtitles. After having used several devices within a year, I can say that some files of MKV, AVI, MOV formats can be launched as well, but not in all players.
Chromecast costs $35 in official Google Play and Amazon shops. On the latter, the device is usually sold on offer for $29,99 or $23, but only to the students who have email in .edu domain. In December 2014, Chromecast entered the Russian market and now it's officially sold in Eldorado, Evroset, Beeline, and M Video at RUR 2,290. Upon purchase till July 1, 2015, additionally you get three months of amediateka.ru subscription.
Initial configuration takes few minutes. The configuration process is described on the box and on the official site. In the mobile app, one needs to connect the device to a Wi-Fi network and the former will automatically update itself to the latest firmware version. In absence of a mobile device for the initial configuration, it's possible to use a PC. The configuration process is simple, so let's continue with the device implementation.
Operation mode and peculiarities
Chromecast operates in liaison with an application installed on a smartphone and corresponding support. At that, there are two operation modes of such a liaison: audio / video / photos transmission from a cell phone / tablet and an output from supply sources. In the first case, the phone or the tablet should be continuously connected to Wi-Fi network or, if possible, to the charger. In the second case, Chromecast receives only a link, and an audio / video control panel is displayed on the swipe and on the lock screen. After having sent a link, Chromecast operates autonomously, therefore the device doesn't discharge the battery, and one can even switch it off.
In standby mode, Chromecast displays a slide-show of beautiful photos and works of art, which can be changed to Google+ photos. In addition, Mirror function (cell phone / tablet image mirroring) is available for the compliant devices with 4.4.2+ firmware. In this case, the entire screen, including the desktop, will be displayed on the TV. Because of lags, it's impossible to watch the movies, but one can easily hunt the pigs in Angry Birds.
[efspanel style="" type=""]
[efspanel-header]
Heading goes here
[/efspanel-header]
[efspanel-content]
There is a list of officially supported routers. With other models one can have problems. Moreover, DIR-620 is missing in the list, but works perfectly well.
[/efspanel-content]
[/efspanel]
The recent Chromecast update includes the so-called "Guest mode" for the devices with 4.3+ firmware. This option enables to launch a transmission on Chromecast even not knowing the local Wi-Fi password. That's how it works: Through the TV speakers / acoustics, Chromecast transmits an inaudible for humans ultrasonic signal available only within a room (the signal doesn't pass through textile and glass). Smartphone catches the signal and receives the connection code. In case of connection failure, an alternative connection mode will switch on, and on the screen you will see a pin-code to be inserted to the smartphone. Of course, the function is available only for Android devices.
Activating online-video from a phone
Considering that originally the device was focused on the American market, the majority of programs supporting Chromecast transmission are in English and some of them require a paid subscription or have a paid content. These include: Netflix, Google Play Movies & TV, Hulu Plus and HBO GO. These applications were among the first available when releasing the device. They will work here, but some of them will announce their unavailability in Russia. Currently, the applications list is noticeably expanded and includes hundreds of items. One can take a look at it on Chromecast official page or to search Chromecast in Google Play.
Video
The first application capable of working with Chromecast is, certainly, YouTube. If the device is in the same network with the phone or the tablet, in the upper-right corner you will see the corresponding caste icon; after clicking the icon, the video continues on the TV from the same point. One can also launch play-lists, bins, and live transmissions.
Chromecast is also supported by a huge amount of other applications. For the moment, it's possible to transmit video from Dailymotion, TED, applications of Disney, PlayOn, and many others. Sport events transmissions are available from WatchESPN and Red Bull TV.
Music
There are multiple applications for music transmission as well. The very Google Play Music enables to load 20,000 of your tracks and to choose the desired one from million-strong sound library in case of having All Access, which you can get free of charge for 90 days by visiting bonuses choice page from American IP.
Pandora, Songza, Vevo will play your favorite songs. Few months ago, a popular podcast manager BeyondPod Podcast Manager obtained the support. Now one can play thousands of audio- and video-records at any time, including those previously saved for off-line use. Pocket Casts performs the same function. TuneIn Radio is great for listening to the Internet radio.
General-purpose programs
There are also the combines specially made for Chromecast, which are capable of displaying almost all online-videos on a big screen. To my mind, the best one of those — VEGA Cast, known before as vCast, from a Ukrainian developer. I use this program starting from its release and up to now I consider it perfect. It's adapted to sending videos from vk.com, fs.to/cxz.to, youtube.com, vimeo.com, ustream.tv, megogo.net, rutube.ru.
To do that, one should just open the video in browser, click "Share" button (usually it's in the menu), and choose VEGA Cast. Or to copy the page address and the link will be pasted automatically when opening the program. As a bonus, this program enables watching the majority of TV-channels online-transmissions in hls (*.m3u8) format.
Through FS VideoBox application from the same author you can transmit video from the largest video hosting fs.to/cxz.to. For evidential reason, this application will never appear in Google Play, but the latest version can always be downloaded from the developer's site.
There are other applications for work with pirate and not such video hostings and IPTV. For example:
Launching a video from a PC
Transmission is available from a PC as well. For this purpose there is an official extension for Google Chrome called Google Cast, which enables to transmit both online and local videos. Just drag the supported file to the window and click "cast" button on the panel. This extension has an experimental option of full-screen display (without mouse), but without sound. It's perfect for showing presentations and slides. If you push the right mouse button on the extension configuring page and choose "View element code", after which delete ng-hide in all lines or untick display:none, the extra settings will appear.
Videostream extension for Chrome not only simplifies the video files display, but also transcodes the unsupported formats on-the-fly. One of the few working ways to view avi extension files. As the saying goes, must have. For operation, Google Cast extension is needed. The following extensions have an extended functionality, but without transcoding: Cast player, VideoCast и vGet. The other way — click VidCast tab on the open page with the video.
Starting video from a PC on a smartphone
For more convenience, the video files from a PC can be launched directly on a smartphone. There are several ways to do that, but one should consider that in some cases the video will go in transit through the phone, so you can catch display lags, and the phone will eat up the battery. Here are five main ways:
Find a folder with video using the standard Windows ways and open it from the phone, e.g., through ES File Explorer (on LAN tab). Then, the chosen video can be launched through ES File Explorer Chromecast plugin or other program, but remember about the limitation of officially supported formats.
Use the liaison of the player mobile version KMP and the PC server part — KMP Connect.
Install BubbleUPnP and any DLNA/UPnP-server on the PC (e.g., BubbleUPnP server or Serviio DLNA Media Server). BubbleUPnP has a nice interface, display control on the swipe (the so-called persistent notification), and a possibility to transcode the unsupported formats on the phone / tablet side, though with some lags. This enables, among other things, to watch IPTV with Torrent Stream Controller. The free version has transmission restriction of 20 minutes. When installing BubbleUPnP server on PC, transcoding will proceed on the PC side, which significantly improves the speed rates.
Installing Plex Media Server on PC and its client on smartphone. Flexible configuration, perfect file transcoding, movie search plugin for displaying posters and information, functional application for a phone / tablet, folders scanning configuration. A video can be sent from any DLNA/UPnP-server. The best option.
To send TV-channels from PC, one can configure Serviio DLNA Media Server with a plugin for M3U-playlists (goo.gl/hvnBh8) and start them through BubbleUPnP from the phone. This enables to avoid hls restriction, because the server will transcode UDP-flow.
Starting video from a smartphone memory
There are four popular applications enabling to start a video stored in a smartphone memory on Chromecast:
AllCast — the most widespread one and the first among unofficial programs of Koushik Dutta, aka Koush — one of Cyanogen Inc founders. Enables to start local and network photos and videos with subtitles. Besides Chromecast, it supports Amazon Fire TV, Apple TV, Xbox 360, Xbox One, Roku, WDTV, Samsung, Sony and Panasonic Smart TVs, as well as other devices supporting DLNA. Has a companion-application AllCast Receiver for content reception on any Android device.
Avia Media Player — can transmit video from any UPnP/DLNA-servers, Facebook, Dropbox, Google+ Photos (Picasa), NAS, Windows Media Player (WMP), XBMC, as well as from other devices other to Android. One of the first officially supported applications.
LocalCast for Chromecast/DLNA and LakitooCast have a similar with aforementioned programs functional, distinguishing itself for the design and few additional functions. The first one sends to a screen only the image, leaving the sound on the phone ("Wireless headphones" function is in beta-version); the second one queues the video, has additional modules, online media-collections support and support of various subtitles with OpenSubtitles.org integration.
The videos taped on the phone (if they are synchronized with Google+) can be sent from a standard, for the latest Google firmware, "Photo" application, but there can be problems with bitrate over 10 Mbit/s (recommended: 4 Mbit/s). Videos taped on Nexus 5 with 1,080р lags a lot and caches continuously. The playback may depend on your device brand, video quality, router model, phone firmware, cannel load.
Other programs
There are many different programs for various variants of Chromecast use. For example, tinyCam Monitor PRO for IP Cam enables sending images from 25 IP-cameras to a TV screen. Dashboard Cast will transform a TV into an information panel with watches, weather, calendar, to-do list, and RSS-flows with a possibility of contemporary audio playback from a device or supply source. In prospect, it will be possible to make widgets of photos slide-show, traffic jams, weather maps, and phone notifications.
In market, there is a section of games for one or more persons. Starting from simple painting games for children, like snakes and quizzes, to chess, checks, tic-tac-toe and "4 in a row", Tetris and Arkanoid, as well as Game Boy emulator for enthusiasts, if having a developer account and being straight-handed (goo.gl/yIDFhz). Chromecast is also supported by a popular Twitch — a service for viewing game videos and games related events, such as exhibitions, competitions, and presentations.[efspanel style="" type=""]
[efspanel-header]
Heading goes here
[/efspanel-header]
[efspanel-content]
For Google Play Music, startable from PC, one can switch on a beautiful effect of burning fireplace.
[/efspanel-content]
[/efspanel]
A perfect thing for presentations arrangement will be Polaris Office supporting doc/docx, xls/xlsx, ppt/pptx, pdf, txt, hwp, loadings from OneDrive, Dropbox, Box, WebDAV and similar network drives, as well as with a handy image control panel. VBukit client — VBChromecast has the same functions.
EZCast will help send documents, photo, video, music, and web-pages. Having wish and time to load video to a cloud, one can definitely use RealPlayer Cloud program, which has a client for PC and enable to cast video being outdoors. Moreover, it's one of few programs that enable to transcode FLV, WMV, MKV, DIVX, XVID, MOV, AVI into Chromecast compatible format. The only minus of the program — small capacity of free account.
Tasker
And now, traditionally, a bit of tasker. AutoCast plugin of Joao Dias enables to take Chromecast under total control. The plugin can transmit video, images, and sound, as well as start video and playlists from YouTube showing, contemporarily, toast notifications from the phone and web-pages, enabling voice commands and video playback control, even if the video has been started by other application.
It's possible to show photos in four windows, to add your favorite song as an accompaniment and pushbullet notifications, or to create your own home screen. You can find the plugin's abilities on developer's channel. And being acquainted with HTML, CSS and JavaScript, you can create your own information center, just as Ryoen Deprouw did with voice control through Google Now (goo.gl/jDHlpl). I start playlists with music and cartoons for my son through Pebble watches, by means of which one can also control playback.
In the article on Pebble watches (December 2014), I referred to YouTube playlists starting by pushing a couple of buttons on the watches. That's the way it works:
Event:
 State -> Plugin -> AutoPebble -> AutoPebble -> pencil-> Command Filter -> input a command which is transmitted from the watches
 Task:
 Plugin -> AutoCast -> Other App -> pencil -> YouTube Url -> playlist or video address. Tick Control Other App Service.
Without watches one can put a tasker task on the desktop (an image should be assigned beforehand). Now you can play back you favorite music and movies with the click on the widget from the desktop.
Playback control is performed by creating the following task:
Plugin -> AutoCast -> Control Media -> pencil -> in Command field choose Toggle Play/Pause.

The following task will help open a video available on the previously copied link:
Variables -> Variable Query.

In Variable field, input the variable name. For example, %castit. At start of a task, a variable prompt dialogue will appear on the screen. Paste the copied link to a video to the dialogue field by a long tap. The second action is:
Plugin -> AutoCast -> AutoCast

In Screen field, choose Full Screen Media. On Full Screen Media Elements tab input %castit variable in Video field.
[efspanel style="" type=""]
[efspanel-header]
Compatibility with iOS
[/efspanel-header]
[efspanel-content]
For Apple devices there are analogues of abovementioned programs:
Video Web Downloader— video transmission from browser.
AllCast — an analogue of the same-name application for Android.
 Dayframe — "photo frame" with photos Facebook, Instagram, Flickr, and other services.
[/efspanel-content]
[/efspanel]
Conclusion
Chromecast is not for those who like watching BD-Rips by 40GB. They should consider "more prestigious" devices (actually, even Chinese HDMI-whistle with installed Kodi/XBMC and hardware speedup plugin will be enough — editor's note). For general users with an average Internet speed, Chromecast will suite perfectly well. To show your guests photo and video from the phone, to watch movies, to play cartoons for a child, to take alone when travelling to watch a movie in a hotel… As for me, I don't use Torrent and don't keep the PC turned on for a long time already. Nowadays, everything can be easily found and launched on this device. I have already presented four such devices to my parents and friends, and one more is always in a pocket of my jacket, in case of going to visit my friends.